April 2010
The Bay Area Composer's Big Band with special guests Elena Pinderhughes adn Zoe Pressley played the Whale and Jazz Festival up in lovely Gualala, CA. There was a great crowd and the show went very well. To hear the concert, visit the Bay Area Composer's Big Band website here:
Bay Area Composer's Big Band at Gualala
December 2009
My quartet played at the Red Poppy Art House and Baytaper was on hand to capture the moment. Check out his video of an excerpt of "The Silver Fox" here:
February 2009
I participated in the Switchboard Music Festival last March and they've put a video up on youtube of one of my pieces, for solo trumpet with sampler. To listen to this piece, please visit the link below, and try to check out the upcoming Switchboard Music Festival, held in SF at the end of March, it's a great place to hear new music.
November 2008
I've been fortunate enough to begin teaching at many different schools here in the Bay Area; Berkeley City College, Los Medanos Junior College, Chabot College, Cal State East Bay, Diablo Valley College, The Jazzschool, and the Waldorf School of San Francisco. Perhaps because of all this teaching, I've been inspired to come up with a duet book, featuring 32 jazz duets written for trumpet. This book was conceived of as a teaching tool, to get students of all levels to get a good feeling of jazz and reading jazz rhythms. The duets progress from easy to difficult, and include a CD with both trumpet parts recorded in different channels so that you can study each individual part and play along if you like. I'll be selling the book of off this website, where you can also find examples of the music in audio clips and pdfs on the sounds/projects page.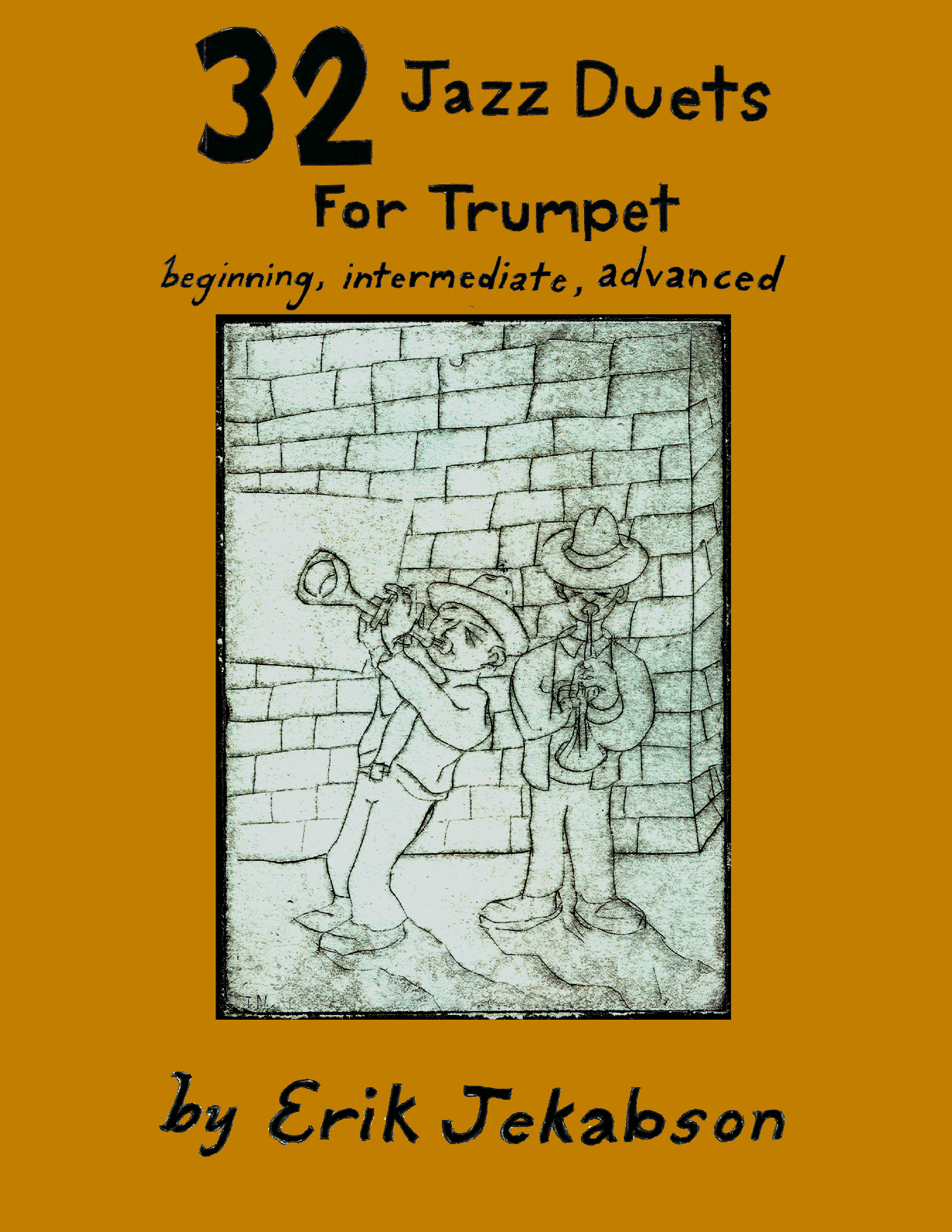 September 2007
I got the opportunity to perform a concert at the DeYoung Museum with a new group, "Erik Jekabson's West Coast Quartet and Strings" thanks to the DeYoung Museum and the Intersection for the Arts. They put together a jazz series and commissioned new compositions for a number of Bay
Area jazz musicians, all based on art in the museum. I composed a piece inspired by Cornelia Parker's installation "Anti-Mass" and wrote a piece for jazz quartet (Dayna Stephens, tenor sax; Michael Zisman, bass; Vince Lateano, drums) augmented by violin and viola (Alisa Rose and Charith Premawardhana)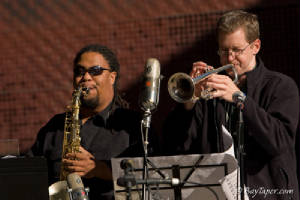 July 2007
I had the opportunity to travel back to New Orleans for the first time since 2004 (pre-Katrina) and play music with the my old friends Todd Duke, Jason Stewart and Andrew Adair. We played a night at Dos Jefes Cigar Bar, and then along with drummer extraordinaire Troy Davis, we played a night at Snug Harbor, the best jazz club in the city and our old stomping ground.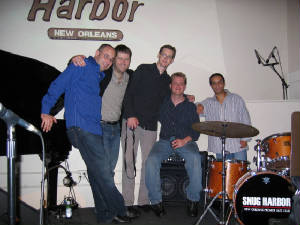 June 2007
I'll be teaching at Berkeley's Jazzschool this summer, teaching courses in Jazz Theory and coaching three ensembles, as well as coaching a weeklong session of a high school allstar combo. Check the Jazzschool catalogue for details!


January 2007
The Erik Jekabson Quintet performed at Bruno's on Dec. 19th, opening up for the Brass Mafia. Baytaper was there and recorded the entire show, which is available for listening and downloading at this site:
August 2006
Gigs, gigs and more gigs! I've been running around doing all types of gigs around the bay area the last couple of months, from straight ahead jazz to salsa, from classical to country, and have also had the opportunity to do some arranging and orchestrating for people. I've finally gotten my myspace music page hooked up, you can listen to some more of my music here:
May 2006
I'm finishing up graduate school and getting ready to get back into the swing of things on the SF scene. I had my graduate recital on April 16th, featuring the fantastic duo of cellist Hannah Adario-Berry and violinist Elizabeth Choi, who played my piece "Seven Movements for Violin and Cello" (written for them). The recital also featured music for brass quintet, jazz octet, solo trumpet w/delay and loop pedal, and 2 pieces for small chamber orchestra. Anyone who wants a CD, send me an email! (I'm very happy with how it turned out)
March 2006
I've had the good fortune of working with San Francisco's renowned comedy troupe "Killing My Lobster", composing the music and leading the band for their most recent production "Killing My Lobster Takes a Cruise". Working with percussionist Stan Muncy and bassist Ian Dickenson, we donned our Hawaiian shirts four nights a week for a two week run at the Brava theater in the mission district of SF. The cast and crew were fantastic and there were great crowds throughout.
January 2006
I've had the good fortune to have a regular gig at Andrew Jaeger's House of Seafood and Jazz at the Condor Club. Located at the historic Condor Club (sight of the first topless club in the U.S.) in North Beach, the club features New Orleans Jazz, and I've been playing there regularly since September with my own bands. To listen to one of our live shows, check out www.baytaper.com, and hear our version of "Tiger Rag".
August 2005

I'm pleased to announce the formation of a new project: "Johnny Bones' Palace of Jazz featuring Erik Jekabson". My good friend Bones, whom I've know since High School, is a wizard at ticklin' the ivories, and we've started a group that plays "hot" 20's and 30's jazz. We've got a new website up, www.johnnybones1.tripod.com, so keep your eyes peeled for news of our upcoming shows!
May 2005
Well, the school year is over, and I made it though allright. I was able to write a lot of new music, and some of the recordings are now up here on the projects/sounds section, where you can listen to them. Featured right now are "Hotter than What? What? What?" for Woodwind Quintet, "Patience" for the SF Conservatory's New Music Ensemble, and "Reassurance", the setting of and Alice Walker poem, sung marvelously by Elena Krell. I'll be in San Francisco for the summer, and am looking forward to staying busy playing and composing. I'm already working on the music for a documentary by Michael Seely, "Radio Grito", and will be writing a piece for SF's own Realistic Orchestra. Stay tuned!
January 2005
My first full semester at the SF Conservatory of Music is completed, and I had the opportunity to hear a couple of new pieces: "Speedway Meadow" for the SF Conservatory's New Music Ensemble, and "Hotter Than What? What? What?" for Woodwind Quintet. My piece "Games" for String Quartet and Piano won the Kris Getz Competition, which requests a chamber piece to be written for 11-13-year old students. The performance will be on May 21st. I've been fortunate to continue performing with John Mayer, including his "Blues" show in New York City on December 28th, but for right now, school is the focus.
September 2004
Back in school- after a great 2 month summer tour playing with John Mayer, I'm back in school at the SF Conservatory of Music, ready to dive back into studying composition. The John Mayer tour, which hit all the major cities in the US, was a great experience. The band was smokin', the crew was great, and we were touring with Maroon5 and DJ Logic, great musicians and nice guys to hang out with.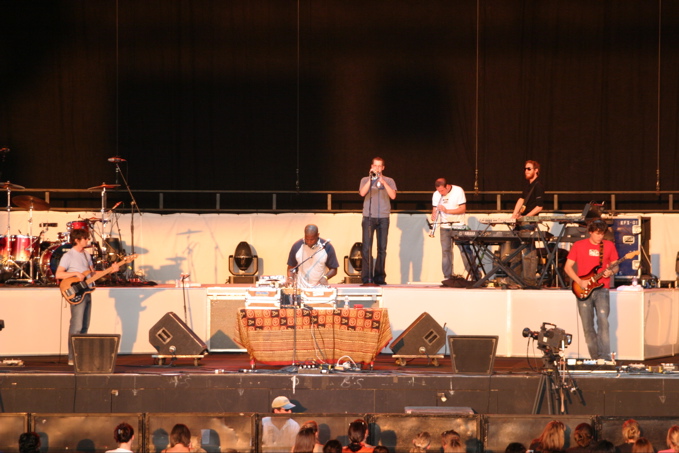 from left to right- David LaBruyere, bass; DJ Logic, turntables; Erik Jekabson, trumpet; Chris Karlic, soprano sax; Jesse Carmichael, keys and guitar; John Mayer, guitar. Photo by Scotty Crowe.
April 2004
On the Road- I completed a two month U.S. tour with John Mayer at the end of March and after playing on the "Tonight Show" with David Letterman, had a week off. We headed over to New Zealand and Australia with Mr. Mayer and snapped a few photos. The trip has been great- beautiful scenery, good people and great shows. Next up is 6 concerts in Europe opening up for Sting.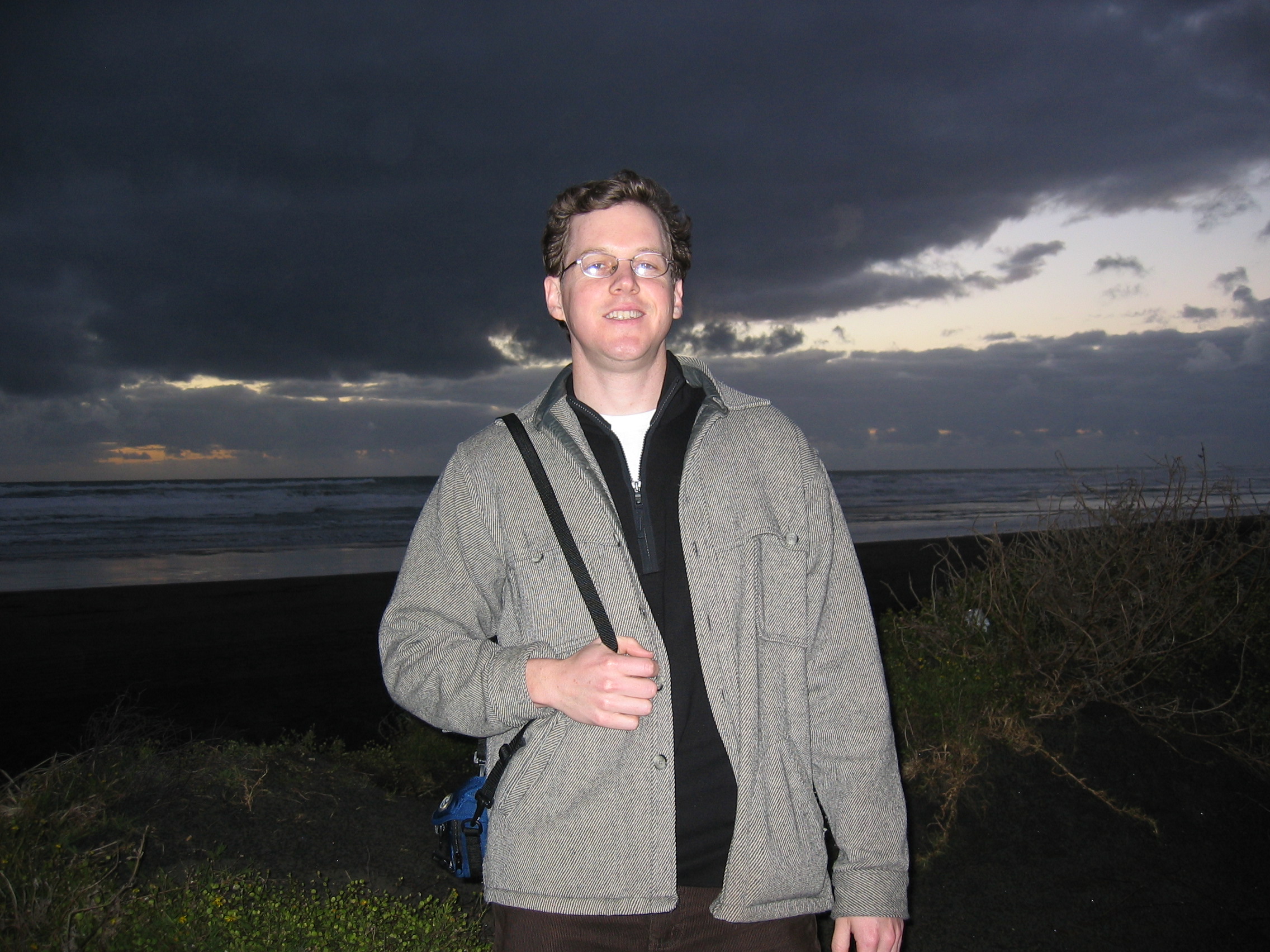 At the Black Sand Beach in NZ
January 2004
My CD "Intersection" receives a positive review in Jazztimes, calling me "a cutting edge jazz player and writer" whose compositions keep "the listener guessing until the last note." (See the full review in the press/reviews section.) I also reunited with old musical comrades in January, traveling to New Orleans to play a CD Release party with old friends Todd Duke, Bryce Winston and Scott Bougious. While there, I had the chance to play at the governer's inaugural ball with John Mahoney's Big Band and do some recording at old friend Tim Stambaugh's Word of Mouth Studio with drummer Simon Lott's group. A few days later I got to sit in with the Howard Fishman Quartet in Los Angeles, which (in addition to Howard) included old friends Kevin Louis, Mark McLean and Jim Whitney.
December 2003
I'll host my San Francisco CD release party this month at Bruno's on December 17th. After completing a successful fall tour with John Mayer, I'm headed back out with John and the band for a spring tour in February and March. I also performed with John Mayer on the "Tonight Show" with Jay Leno on December 8th.
OCTOBER 2003
A couple of months into my studies at the SF Conservatory of Music, I recieved a call to go on a 4 week US tour with singer/songwriter John Mayer. School will have to wait, for an opportunity as good as this! The band will be performing in New York, my old stomping ground, except instead of playing for tips at Detour in the East Village, we'll be playing at Madison Square Garden.
AUGUST 2003
My new CD "Intersection", featuring original compositions and a band of some of New York's finest young players, is released on the Fresh Sound/New Talent Label! The album, recorded in December of 2002, features eight of my original compositions and cover art by my brother Mark Jekabson. Check your local record store or order your copy today...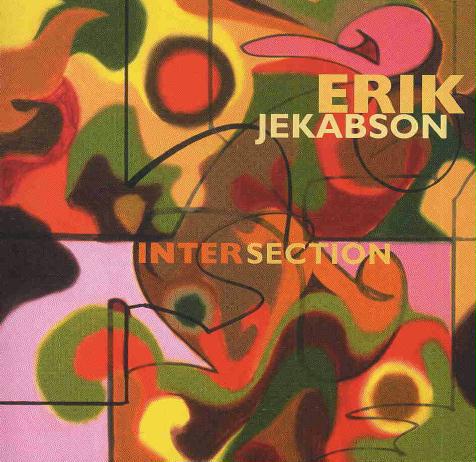 MAY 2003
After 5 years in New York, I've has decided to move to San Francisco to attend the San Francisco Conservatory of Music, where I'll pursue a master's degree in composition. Leaving New York is a hard thing to do, especially leaving all the great bands and musicians that I've had the chance to play with, but having the opportunity to work on composition full-time is too good of an opportunity to pass up. I'm leaving on July 1st, so if you want to see the Erik Jekabson Quintet perform, you've got two more chances- May 27th at Cornelia St. Cafe and June 17th at Detour.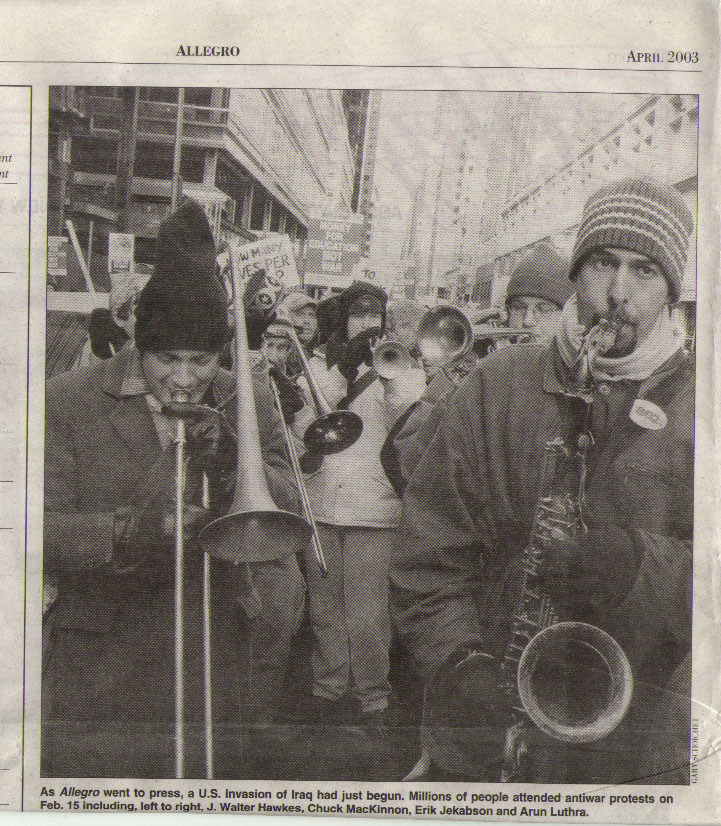 April 2003
With trumpeter Chuck MacKinnon and a bunch of other NY horn players and percussionists, I participated in a couple of anti-war rallies in New York City this past February and March. The protest on February 15th, in which an estimated 500,000 people participated, was intense for horn players because the temperatures were below freezing and it was extremely windy. Nonetheless, the band played bravely on, feeding off the energy of it's fellow marchers, grooving on funk, traditional jazz numbers, and in one extended jam, "A Love Supreme". Some noteworthy items: it was so cold that Chuck's valves froze at one point, and saliva that trickled out of the bells of the horns froze. The picture above, printed in the April issue of Local 802's Allegro magazine, caught the vibe.
The protest on March 15th had a different vibe. The weather was beautiful, it was more like a big block party, but the band was just as rocking. With 4 trumpets, an alto sax, J. Walter Hawkes on trombone, John Ellis playing dixieland clarinet, Roland Shneider playing the snare drum and a myriad of other percussion players, we grooved with other horn players, drum lines, singers, and anybody else who wanted to promote non-violence. It was great walking down the middle of Broadway playing Charlie Parker's "Confirmation" with 4 trumpets! We got some pretty quizzical looks when we played that, but mostly we stuck to old traditional tunes. I think the biggest hit was "Down By The Riverside", which we played right by Washington Square Park. It felt like we were back down in New Orleans, marching with a second line who were dancing their butts off. There was even a Grand Marshall, some random guy in a blue sweatsuit who kept urging us to keep going.