"Trumpeter Erik Jekabson's 2010 effort Crescent Boulevard is a thoughtful, cerebral post-bop affair that is a perfect balance between melodic artistry and probing, knotty jazz improvisation. Similar to Jekabson's previous recordings including his stellar 2004 debut,Intersection, Crescent Boulevard finds Jekabson delivering his burnished, warm trumpet tone and fluid improvisational lines that bring to mind such influences as Kenny Dorham,Blue Mitchell, and Miles Davis. Moving from the catchy and melodic bossa nova album opener to the muted and atmospheric title track ballad, all of the songs here are Jekabson originals save for his sprightly take on Harold Arlen's "My Shining Hour," which he impressively performs with only drums behind him." - Matt Collar, Allmusic Guide, 2010
"East Bay trumpeter Erik Jekabson girded himself with a powerful band for Crescent Boulevard, but he sounds best without the extra ammo. On "My Shining Hour" — conveniently placed at the end of this nine-track disc — Jekabson solos over a bustling swing beat by drummer Smith Dobson. The combination of raw trumpet and traps is something one seldom hears on a modern jazz record, and in this case, it sounds almost like an aria. For four minutes, Jekabson soars. He issues a few fat tones and slippery chromatic runs, never strays from the chord changes, does that half-valve technique thing that makes the trumpet sound like a singer moaning in a stairwell. The original "My Shining Hour" was a puppy-love ballad by Harold Arlen and Johnny Mercer. On Jekabson's record, the piece glistens.
That's definitely the payoff, but it's not the only highlight on Crescent. Comprising eight original tunes, the album starts with a light-weight bossa ("Parisian Jaunt") and builds to a wail. Dobson paints the canvas, along with bassist John Wiitala and guitarist Michael Abraham; Dayna Stephens guest-stars on tenor. The title track is another burner, soft and balletic, with a long bass-guitar vamp at the beginning. Stephens and Jekabson play the head mostly in tandem. Abraham thrums insistently behind them. Soloing on "Silver Fox," Jekabson shows his chops, letting go a series of rapid thirds. The head of that piece is fairly detailed, with a lot of careful call-and-response between band members. As a composer, Jekabson shows promise. He's straight-ahead without a real wandering palette. As a bandleader, he's judicious, knowing when to lean and when to shine." - Rachel Swan, East Bay Express, 2010
"Intersection, trumpeter Erik Jekabson's debut album as a leader, is an impressive post-bop affair that showcases the California native's softly cerebral improvisation style. With a trumpet sound not unlike his similarly minded contemporary Ryan Kisor, Jekabson has a crafted a stylistically varied album that ranges from the world fusion of the title track to the driving and angular swing/funk of "A Night on the Town." Interestingly, Jekabson displays a knack for writing unique, forward-thinking, and cliché-free compositions that nonetheless reveal a thorough understanding of jazz tradition. Backing the trumpeter are the adept rhythm section talents of guitarist Ben Monder -- calling to mind a young Pat Martino -- as well as bassist Alexis Cuadrado and drummer Mark Ferber. Similarly deep are tenor saxophonists Matt Otto and John Ellis summoning the spirits of Joe Henderson and Wayne Shorter as they spar a bit on the melancholy chamber piece "The Rising." A moody and introspective album, Intersection is a must-hear for fans of serious modern improvisation."

by Matt Collar, All-Music Guide, 2005
"Erik Jekabson was a member of New York's eclectic Howard Fishman Quartet before he returned to his native California to study composition at the San Francisco Conservatory. (At this writing, he's on leave to tour with pop sensation John Mayer.) Intersection, Jekabson's debut on Fresh Sound New Talent, documents the trumpeter's considerable gifts as a cutting-edge jazz player and writer. The disc features Matt Otto and John Ellis switching off on tenor, Ben Monder on guitar, Alexis Cuadrado on bass and Mark Ferber on drums. Jekabson thinks in big, broad strokes, particularly with "A Night on the Town", which begins as a minor-key cooker but ventures outward to droning funk and even minimalist abstraction. The title track, another centerpiece, opens and closes with an ear-twisting, rhythmically daunting fugue; Jekabson keeps the listener guessing until the last note. But this record offers simpler pleasures as well, such as the waltz "Invigoration" (featuring an animated Ferber on brushes) and a closing trumpet and guitar rendition of "You Go to My Head", the only nonoriginal of the set." - David Adler, Jazztimes Magazine, February 2004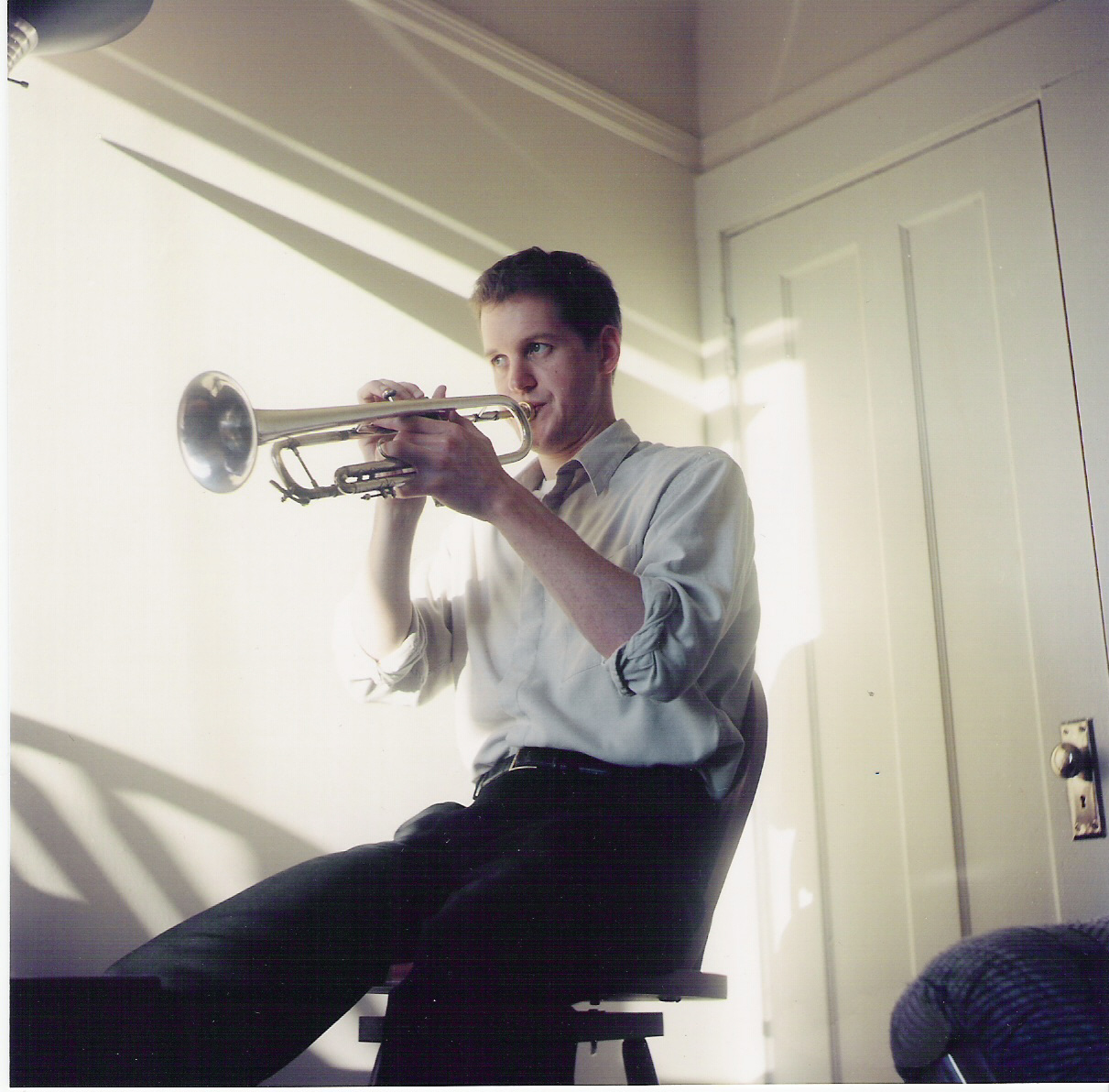 Photo by Paul Mansfield
"Like many of his compadres on the Spanish FSNT imprint, trumpeter Erik Jekabson not only sports playing chops but writing and arranging acumen. The Berkeley, California native has spent the last five years in New York, where he's worked with the Illinois Jacquet and Woody Herman Big Bands, and the Howard Fishman Quartet.

'On The Move' begins with the leader's trumpet and Matt Otto's tenor weaving lushly around each other over swinging drums until acoustic bass and electric guitar provide a slightly overlapping, quickly alternating, great little two-note motif. The motif supports the melody, voiced in tandem by trumpet and tenor, setting up a walking bass section that slows through a lope under a stretched out melody line, back to the guitar-bass motif. Where walking bass should return, it drops out under Jekabsons first solo section, beginning with Latin allusion, progressing to bop illusion, hinting at reservoirs of facility only reservedly displayed. Stabs of rhythm guitar facilitate the handoff to Otto, who picks up the ball with Turrentinelike grit and breathiness, effortlessly navigating the changes with just the right concentration of notes. Drummer Mark Ferber breaks it down under that returning motif, as bass man and producer Alex Cuadrado returns to drive the swing section of the melody home.

One of the world's finest handful of guitarists is along for this ride-Ben
Monder. Here he plays, for him, the unusual role of master straight-ahead
bop guitarist, something he does as well or better than any player today.
These ears hear only Kurt Rosenwinkel and Adam Rogers as his generational
peers in this milieu, but for Ben, bop forms comprise a mere solar system in his sweeping galaxy as a player-I'll leave the comparisons at that.

The title cut ideally lays Ben's brilliance bare. This superlative
composition begins with John Ellis' plaintive ocarina, then Ben setting up a single-note, real-time sequence for Ellis' tenor and Jekabsons trumpet to interlace lines against and through. Cuadrado enters the fray, somehow
weaving his line into a now-unified, gently swinging canvas that
deconstructs slightly before beginning a loping, open section for Jekabsen's solo. The interaction between the trumpet line and Monders letter-perfect, but loose, comping is notable here before his guitar takes the floor. At first, horns dance under him, to which he reacts with complementary, never repeating, motif. But when the horns drop out, Ben goes scintillatingly linear, to the point that even fans who know his work will be pleasantly surprised. Heres a great example of yet another intriguing element of the contemporary jazz world; that is, when a players participation in a date provides context that catalyzes revelation of optimum capabilities. In other words, Ben all-too-rarely has taken opportunity to rip as cleanly and as liberally as he does here, and again on 'Invigoration,' first dancing sparsely before breaking into a full-on sprint over this new take on a classic, jazz-waltz composition.

Theres a lot to delve into, including the Sketches of Spain evocations of
'You Go to My Head,' 'The Rising' and 'Farewell,' the latter of which
imparts a feeling of meditatively revolving in introspection. 'Farewell'
finds Monder following his instincts to create a new improvisation, a new
song over an undulating single-note bass pulse.

Jekabson has handpicked a great unit to realize his considerable writing and arranging skills, turning in another winning FSNT debut - a provocative take on the jazz tradition, rooted in straight-ahead, elegant, small-group work."

- Phil DiPietro, jazzwriter, contributor to "All About Jazz"


Jazz quartet Vista deliver a solid set of mainstream post-bop on The Arrival. Lead by trumpeter Erik Jekabson and tenor saxophonist Dan Pratt, Vista focus on original compositions by the two native Californians. Jekabson is a deft and thoughtfully cerebral musician whose style brings to mind a softer Black Codes-era Wynton Marsalis. Similarly, Pratt's Dexter Gordon meets Charles Lloyd sax aesthetic is a perfect frontline balance. Rounding out the ensemble are pianist Andrew Adair, bassist Matt Pavolka, and drummer Scott McLemore. This is a solid, cliché-free debut that should please fans of serious modern jazz.



-All Music Guide, 2006
"Anyone whos heard
Erik Jekabson
s melodic and rhythmic acuity as a member of the Howard Fishman Quartet ought to hear him lead his own quintet, usually at Detour early in the week. During a recent set with tenorist Matt Otto, guitarist Ben Monder, bassist Alexis Cuadrado, and drummer Diego Voglino, Jekabson presented a laid-back, modern mainstream concept, replete with sophisticated harmonies and tight, compelling arrangements. We dont yet have a recording by this group, although clips are available at the site. As a composer, Jekabson has serious aspirations: he has collaborated on chamber works with the Tapfusion Dance Company and plans to study composition on the graduate level." - Allaboutjazz.com, November 2002
New World Funk Ensemble
(October OffBeat feature) (Summer 1998)
by Tom McDermott
photo: Carl LeBoeuf
Walking into Cafe Brasil one night last spring, I was taken aback by what I witnessed: ten guys playing adventurous charts with great soloists and a crankin' groove. The New World Funk Ensemble was doing its second or third gig and the room was full of musicians savoring the buzz of a fine new product.
Six months later, without a CD to spread its message, the band is still relatively unknown, familiar mainly to habitues of the Mermaid Lounge. Because of this, and because stylistically they remind me in a lot of ways of a band I'm involved with, the New Orleans Nightcrawlers, I feel compelled to write about them.
While having coffee recently with the band's head honchos, Todd Duke and Erik Jekabsen, I decided to play devil's advocate. "Is it New World Funk," I asked them, "as opposed to Asian or European Funk?"
"No," Todd laughed. "The name is a composite which represents the types of music we're interested in. 'New' because we hope to achieve something original. 'World' because we're drawn to African, Cuban and other world musics, not just 'American' sources. 'Funk' is in there 'cuz we love that too, though it's a little misleading because we're not exclusively groove-oriented. And 'ensemble,' well, it sounds classy but not snooty like 'nonet,' which would apply now that we've dropped to nine pieces."
Guitarist Duke was exposed to African music under the best possible circumstances: a six-week US government-sponsored tour in the fall of l996 with saxophonist John Ellis, the marvelously spry tenor (and NWFE founding member) who moved to NYC earlier this year. "That really opened my eyes," he explains, "especially the rumba bands in the southern countries, which play a kind of Portugese music filtered through African rhythm. I was also knocked out by a pop band named Andy Brown and the Storm, a group that uses traditional instruments like the mbira, but whose records you can't find over here."
The most tangible evidence of the continent's influence on Duke is the vahlia, a 16-string instrument purchased in Madagascar, which sounds vaguely Indian to these Western ears. "I'd use it more often," he notes, "But it can only be tuned to play in one key at a time, and it's impossible to retune on the gig."
The Cuban influence is more than anyone courtesy of Michael Skinkus, a terrific conguero who also hits the skins for Michael Ray and the Cosmic Krewe, Mas Mamones and Taino Folklorico. Skinkus, who plays timbales and assorted percussion in addition to the congas for the NWFE, is fanatical enough about his craft to have visited Cuba twice in the last year for musical instruction.
New Orleans these days is breeding a cornucopia of gifted young twenty-something trumpet players. The best-known is Nicholas Payton, but among those also worth mentioning are Irvin Mayfield, Derrick Shezbie, and the NWFE's 24-year-old co-founder, Erik Jekabson. Raised in the Bay Area and educated at Oberlin Conservatory, Erik's playing has a strong Clifford Brown tinge, while as a composer and arranger he feels most beholden to Ellington.
"Those two are my biggest inspirations," he adds, "But I also really dig Weather Report, Miles, and Peter Apfelbaum and the Hieroglyphics Ensemble, a 14-piece Bay Area big band that uses the African two-guitar concept we had when Brian Seeger was in the group."
The best example of Jekabsen and the NWFE's adventuresome music-making is probably their self-titled, multi-sectional tune, "New World." While many local bands are content to trot out the old "play the head, then jam forever on a two-chord vamp" formula, "New World's" arrangement is Byzantine in comparison. It opens with an airy, out-of-tempo intro for horns (Jekabsen, trumpeter Grant Harris, tenor Scott Bourgeois alto saxman Loren Pickford), wah-wah guitar and vaguely African percussion. Next comes a shuffle in two sections, the first a two-chord vamp with rock guitar muttering over lines by bassist Sam Price and drummer Karl Budo, then a brief 16-bar head played once. This segues into a straight funk groove, then a spacey section for the aforementioned vahlia, Jekabsen on didgeridoo (an aboriginal flute) and percussion. Eventually this evolves into a 12/8 feel (the African meter), with the melody carried by Pickford on flute. The piece closes with a more conventional funk rhythm underneath Middle Eastern harmonies carried over from the previous segment -- in fact, the whole work seems very much of a piece, well-constructed with a logical flow.
Timbales, vahlia, didgeridoo: this is not the arsenal of your average New Orleans band. Add to this the talents of Charlie Denard, a newly-arrived keyboardist whom Duke says is "capable of incredible sounds." New Orleans seems to be -- perhaps because of its roots music orientation -- somewhat technophobic. I haven't seen, for instance, a local band that mixed really good jazz or rock playing with the keyboard technology (sampling and all that) which is available today. Perhaps NWFE with the help of Denard will be the first.
At the end of our meeting I told Duke and Jekabsen something they already knew: "Your demo tapes are good, but a lot of music industry heads won't bother with tapes -- you need a CD." "Well, it's a catch-22," Duke responded. "We don't have the money to record. If we got more people to come to our gigs, we could take the door money and invest in a recording. But one way to get people to come to your gigs is if they hear your CD, on the radio or whatever. Yeah, it's a problem, but we hope to have some product out there soon." In the meantime, put on your world-music dancing shoes and check out the NWFE at the Dream Palace (Oct. 11) and Tipitina's (Oct. l8).
The Arrival



"New Orleans jazz fans will recognize two of the members of Vista- trumpeter Erik Jekabson and pianist Andrew Adair. These players, who once made the big easy their home, were regulars on the scene. Now living in New York, last year they teamed up with co-leader/saxophonist Dan Pratt, bassist Matt Pavolka and drummer Scott McLemore. This self-produced disc marks the band's debut release.

The album features all original material from Jekabson and Pratt, tunes that in form and approach display a certain sense of classic jazz. The disc opens with Jekabson's title track, a warm tune on which the trumpeter's clear tones meet Pratt's flowing sax. By the end, the temperature is turned up a degree, egged on in part by Adair's piano. Adair, who many might recognize for his work with saxophonist Donald Harrison Jr., brings his light touch to Pratt's ballad "Moment of Change", which, as the title suggests, goes through a metamorphisis from contemplative to dynamically stated.

Jekabson and Pratt teamed up to write "Kiredan", which brings an element of funk and fun to the arena with same playful trumpet smears and a danceable groove. It's sense of humor and staccato feel makes for a nice change of direction on the disc. Everyone seems to be enjoying the beat, taking off in a more spontaneous mood.

If there is a complaint here, it would be that the musical form occasionally becomes a bit too predictable. More risk-taking by these fine players could bring the session to yet another level. Still, "The Arrival" is an excellent showcase for these talents and a strong jumping-off point for things to come."

--Geraldine Wyckoff, New Orleans Gambit Weekly, March 28, 2000